¡CAUTION!
READ BEFORE HANDLING MAGNETS
Warnings and instructions for magnet manipulation

(children aged from 0 - 14)INGESTION HAZARD!
Keep out of reach of children.
Serious injury or death due to ingestion
.

PACER CAUTION!
Always warn people with ferric device implants. Magnets can afect the functioning of pacemakers and defibrillators, even thy can make them stop working.

MAGNETIC FIELD!
Keep away from objects that can be damaged or demagnetized. The magnets can damage electronics, tv , computers , hard drives , credit cards , watches, among others.

USE ADEQUATE POSTAL SHIPPING!
Packing in the center of a filler and  make sure the magnetic field remain neutralized. It can damage the measuring devices and other goods of shiping and other packagings, consider air warnings.

IMPACTS UNEXPECTED BY ATTRACTION

!
Avoid impacts and use separators or other material between the magnets.

ELECTRICAL CONDUCTIVITY!
The magnets potentiate electrical conductivity as they are made of metal and its magnetization can make them more conductive.

WARNING OF BRUISES AND INJURY!
Wear thick protective gloves .
In case of unexpected attraction or carelessness magnets can produce from bruises on the fingers and the skin to bone fractures and severe damage to the body.

NICKEL ALLERGY!
No not use if you are allergic to nickel.
Avoid prolonged direct contact with nickel coated magnets, long exposures may cause nickel allergy.

USE ADEQUATE AIR PACKING!
Pack with enough magnetic shielding if transported by aircraft .

TEMPERATURE RESISTANCE!
Do not expose to high or low temperatures.
Most magnets loses its magnetic force being 80 ° C and 220 ° C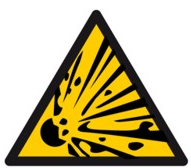 ENCASE MAGNETS OR KEEP
10cm
SEPARATION AT LEAST !
Cover the magnets or separate them with leather, plastic, wood, or other material so as not to pose a hazard by joining together or another ferric-metallic object.
.

FRAGILE, METAL FRAGMENTS BY BREAKING!
Wear goggles, avoid magnets colliding between each other or with other metals
The magnets are fragile and can break off. Sharp fragments hitting from long distance could cause body injuries.

DAMAGES FROM HOLDING FORCE FAILURE!
The clamp force indicated is only under ideal conditions.
Do not use magnets in places that can fail and cause damage by useage, material defects or weight overload.

FLAMMABLE!
Dust or residues due to fragmentation or machining work may be flammable.

OXIDATION AND CORROSION

!
Protect from moisture.


Neodymium magnets contain a thin coating to prevent rust and corrosion unless it is damaged or exposed to outdoor spaces
.


I-MANES® www.i-manes.com
www.i-manes.com I-MANES® ©2014